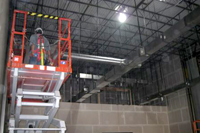 We have a long-standing history and tradition of excellence in specialty construction services, such as site preparation, steel construction, drywall and acoustical ceilings, and many others. AMX has both the experience and the expertise to effectively serve the needs of our clients. We diligently review every project we receive, make professional recommendations and tailor detailed project plans to complete customer satisfaction.
Our people are one of our major assets. AMX managers overseeing on-site construction, maintenance, and completion teams are trained to expertly handle safety issues, detailed Construction Project Management (CPM) schedules, cost monitoring and analysis, material expediting and handling, measuring productivity and solving any problems that may arise during the project. Our experienced field crews make sure that every project is completed on time and according to the project specifications.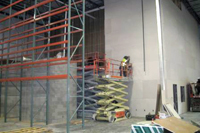 Which Specialty Services Do We Handle?
Commercial drywall and acoustical ceiling construction is only one example of specialty services we provide. We install both interior and exterior light gauge metal framing and drywall panels, and provide and install acoustical ceiling grid and acoustical ceiling tile systems specified by the customer. As an added benefit to our clients, we include labor to install client furnished interior door and frame systems. We also take on project management, site preparation, hazardous material abatement, demolition, foundations, steel construction, design and installation of fire suppression systems, tape, bed and painting, area paving, site safety, and will perform interior finish outs from start to finish—from demo to final clean up.


Specialty Services at a Glance